socialmediatoday.com - Pinterest has a large and growing audience. Here are the steps you can use to get more exposure for your blog posts via Pinterest.
15 tweets
monsantotoday.com - Gothenburg's Learning Center Manager, Chandler Mazour, reflects on the Water for Food Conference. Read The following blog post to learn more.
2 tweets
mypict.me - Easily share, upload, and browse through photos from your favorite social networks on mobile and web. See what's happening in your network and other popular communities today!
1 tweet
socialmediatoday.com - In light of Facebook's new policy that allows for cover photos to include calls-to-action (CTAs), here are five ways to start converting visitors.
1 tweet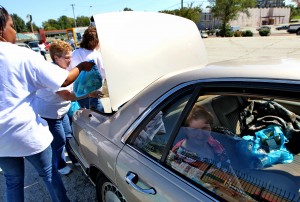 www.stltoday.com - In the end the only way to judge the lawmakers who leave Jefferson City today is to ask a simple question: What did they do for kids? The answer, no matter your politics, is an empty one. Not enough.
5 tweets
www.bizjournals.com - The 20 startups that are set to be announced as Arch Grants winners today are a ...
23 tweets
www.onextrapixel.com - For today's round up, we have chosen to showcase some very useful HTML5 tools, Tutorials and other resources that will help you improve your HTML5 skills. From the time when HTML5 was first introduced...
16 tweets
universitycity.patch.com - University City signs on for nationwide park celebration.
1 tweet
stlouis.cbslocal.com - Today, Kevin visits with Jeff Phillips, whose purchase of an unmarked box of slides showing the travels of a 1950s couple "Harry and Edna" compelled him to find out who they were... The exhi...
3 tweets
abcnews.go.com - (Andrew Harrer/Bloomberg via Getty Images) The Internal Revenue Service official in charge of the tax-exempt organizations at the time when the unit targeted tea party groups now runs the IRS office r...
5 tweets
Retweet Successful
You have retweeted the selected tweet and it will now appear in your timeline. If you didn't mean to do this, or changed your mind about retweeting this message, you can click the "Undo Retweet" button below.
Retweet Successfully Undone
You have successfully undone the retweet. You may still see the retweet on STL Tweets, but it has been removed from your official timeline on Twitter.